2011-01-16
Ubuntu Server 10.10 on Virtual PC under Win7
A while ago, I described how to
get Ubuntu Server 9.10 to run Windows Virtual PC
.
As it turned out though, the beasts were only tamed for a release or two. For Ubuntu Server 10.10 this guide needed an update, so here it is!
These are the steps required to get
Ubuntu Server 10.10
to run on
Windows Virtual PC
under
Windows 7
.
For this to work you will need:
Ready? Let's go !
1. In the
Virtual Machines
folder, create a new VM. Before launching it, edit the settings to
mount the Ubuntu ISO

2. Launch the VM and select your language.
3. Press
F4
and select
Install a minimum virtual machine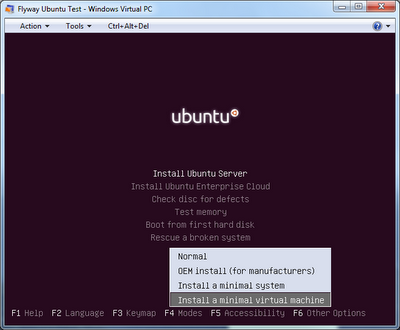 4. Perform the installation all the way through.
5. After the reboot, in Grub, select the
first entry
and press "
e
" to edit it.
6. Add "
noreplace-paravirt vga=771
" (no quotes) before "
quiet
" on the second last line and press
Ctrl+x
to boot
7. Log in and edit the file called "
/etc/default/grub
" as root. Change the line with
GRUB_CMDLINE_LINUX_DEFAULT
in:
GRUB_CMDLINE_LINUX_DEFAULT="noreplace-paravirt vga=771 quiet"

8. Execute this command:
sudo update-grub
9. Reboot
10.
Welcome to Ubuntu Server 10.10 under Virtual PC on Windows 7!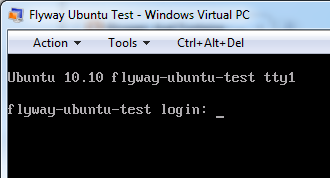 ---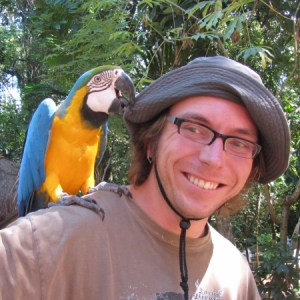 About Axel Fontaine
Axel Fontaine is the founder and CEO of Boxfuse the easiest way to deploy JVM and Node.js applications to AWS.
Axel is also the creator and project lead of Flyway, the open-source tool that makes database migration easy.
He is a Continuous Delivery and Immutable Infrastructure expert, a Java Champion, a JavaOne Rockstar and a regular speaker at many large international conferences including JavaOne, Devoxx, Jfokus, JavaZone, QCon, JAX, ...
You can follow him on Twitter at @axelfontaine
Architecting for Continuous Delivery and Zero Downtime
Two day intensive on-site training with Axel Fontaine
Upcoming dates
Iasi, Romania (May 10-11, 2017)
Oslo, Norway (Oct 16-17, 2017)
---
Impressum
Axel Fontaine Labs GmbH
Baubergerstraße 59
80992 München
Deutschland

+49 151 5560 2935
axel@axelfontaine.com
USt-ID Nr.: DE324977313, St.Nr.: 143/117/21411
Amtsgericht: München, HRB 200564, Geschäftsführer: Axel Fontaine
Redaktionell Verantwortlicher: Axel Fontaine
Message sent
Thanks! I'll be in touch shorty.
Message forwarded to /dev/null
Thanks! Your message looked like spam.
My good friend /dev/null will be in touch shorty.